Apple Self Storage
70 Thorne Ave, Saint John NB
1ST 4 WEEKS FREE on select units
Photos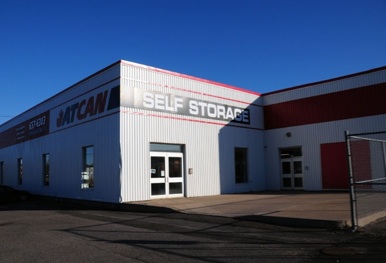 About Apple Self Storage
Conveniently located on the East side of Saint John in the old Canadian Tire Building next to Liquidation World. All our storage units are heated providing you with the best possible environment to store your goods. Our drive in loading bays keep you and your goods out of the unfavourable weather. Our site contains both drive up and indoor access storage units with a variety of sizes of each to pick from. Complimentary use of on-site dollies and pallet jack. Our scissor lift and ground level loading options make your moving experience as easy as possible. Convenient access 24 hours a day, 7 days a week. Office Hours Mon: 9:00A-5:00P Tue: 9:00A-5:00P Wed: 9:00A-5:00P Thu: 9:00A-5:00P Fri: 9:00A-5:00P Sat: 9:00A-3:00P Sun: Closed
Unit Sizes and Pricing
6' x 6' unit

Heated, Inside, Ground Floor

/4 weeks
Continue

5' x 8' unit

Heated, Inside, Ground Floor

/4 weeks
Continue

6' x 8' unit

Heated, Inside, Ground Floor

/4 weeks
Continue

5' x 10' unit

Heated, Inside, Ground Floor

/4 weeks
Continue

7' x 12' unit

Heated, Inside, Ground Floor

/4 weeks
Continue

10' x 16' unit

Heated, Inside, Ground Floor

/4 weeks
Continue

10' x 20' unit

/4 weeks
Continue

10' x 25' unit

/4 weeks
Continue
Features
Climate Control
Drive-up Access
24/7 Security Monitoring
24 Hour Access
Parcel Delivery Acceptance
Packing Supplies
Dollies & Carts Available
Payment Options
Vehicle Storage
Facility Reviews
---
I'm very impressed with the excellent customer service I received from Rachel! She goes above and beyond in her role. Always has a smile on her face, and anytime I needed help she was there. The facility is bright, clean and heated. Also, love their access hours. I highly recommend Blue Bird Storage in Saint John, NB.
---
Pre-booked a unit and waited extra time for them to open new location in Saint John at the price they had at the time and they had made a mistake on their website and was told that the district manager said they could not honour that price. I ended up renting a unit at another storage place which I could (and should have done earlier). Ended up delaying my plans for nothing. Very disappointed with this company. The person working at the desk was very nice, was not her fault.
---
The storage facility is very bright and clean. I was specifically looking for a self storage company that offers 24 hour security for and Bluebird provided that plus much more. If you are looking for a storage unit around Saint John, highly suggest checking these guys out! Reserving my unit online was extremely easy! Overall a really good experience
---
Bran new good service great space
---
Bright, modern new self storage facility. Great selection of climate controlled unit sizes in Saint John. While most storage places are full, Bluebird has lots of space.